Have you ever asked the question, "Why is health and fitness important?" If you have, then it means that you have started to become aware of the importance of health and fitness in your life.
The purpose of this Veterans' Health site is to get members of the veteran community involved in regular activities to help improve their health and well-being. Soldiers, Veterans, their families and others can learn about the benefits of physical activity and other healthy lifestyle choices.
Reduce the risk of heart disease, stroke and diabetes

Improve joint stability

Increase and improve range of movement

Help maintain flexibility as you age

Maintain bone mass

Prevent osteoporosis and fractures

Improve mood and reduce symptoms of anxiety and depression

Enhance self esteem

Improve memory in elderly people

Reduce stress
It does take a bit of discipline and determination to stay fit and healthy. It is important to think about the downside of ignoring your health and fitness as you will surely suffer in the future. Fortunately for you, technology is also making it possible to bring you all the activities and resources that will uphold your good health condition and physical fitness. No matter what the answers are to question "why is health and fitness important?" it is all up to you to choose the answers that suit you best.
- BJ
Just adding a little movement to your life can -
This serious part of our site is a collaborative effort between the Government, churches, and health volunteers. It compiles with federal, state, local and non-profit resources for wounded warriors, veterans, family members and caregivers in a single, searchable site.
It will be constantly updated with latest information possible.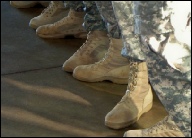 "We need to get our heads out of the sand and wake up. These are our kids over there, and they're getting killed for what we don't even know. And we should take better care of them. Go out and connect with a ministry, or volunteer or join an outreach to help this men and women pickup the pieces to the lives. Trust us, GOD will bless you for it."